National Philanthropy Day is an annual opportunity to celebrate the exceptional contribution of the people in the philanthropic community who provide daily support  to many causes and organizations.
At Marie-Vincent, philanthropy is essential to the fulfillment of our mission. More than 65% of our annual budget comes from donations and fundraising events. This year, more than ever, we'd like to take the time to emphasize ou underline the importance and generosity of our donors. Every one of them is an essential link in thesolidarity chain that enables us to support more young victims of sexual assault.
To show our gratitude, we've inaugurated a Donor Wall at the entrance to our Montreal Child and Youth Advisory Centre. The mural shows a tree, a symbol of vitality, drawing its strength from the generosity of those who firmly believe in our cause. Each leaf bears the precious names of the philanthropists who have helped shaping our path so far:
The Visionaries

, whose generosity has enabled recent years' exponential growth of Marie-Vincent, and allows us to develop new services to build a protective community.

The Architects

, whose support contributes to the construction of the action plan aimed at improving access to our services.

The Builders

, whose support ensures the realization of our mission, allows us to strengthen our ability to help young victims of sexual violence and to develop our training and prevention programs.
The tree protects, comforts, and brings people together with remarkable resilience and is firmly anchored in the soil. It is a symbol of the protective community we are building together.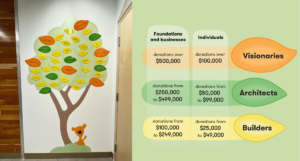 Thanks to our donors, we can continue our mission of supporting sexually abused children and teenagers by giving them, in collaboration with our partners, the services they need under one roof. Our donors enable us to continue to prevent violence through education and awareness and help us support children with sexual behavior problematics.
Their generosity gives hope to children who have been through the unimaginable.
For those we can't serve daily, here are videos of our two child and youth advocacy centers (CAEJ) located in Montreal and Montérégie. See the warm and welcoming facilities you've helped us build to accommodate the young people we help.