Dominique Di Fiore, Co-Chair, Marvin's Circle
Co-owner of Clinique de Psychologie D2
Dominique Di Fiore received her Bachelor of Commerce degree from McGill University and her Master of Management, Innovation and Entrepreneurship from Queens University. Her experience in business start-ups allowed her to start her own company in 2020. As co-owner of Clinique de Psychologie D2, she ensures the smooth running of the clinic by managing all operational and administrative aspects. The clinic, located in Westmount, offers a variety of psychological services including psychological assessments, couple and individual therapy. In addition, since 2007, Dominique has supported several charitable organizations in her community.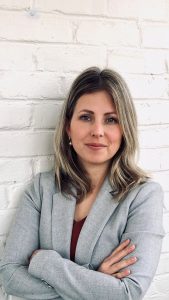 Marie-Claude Vernier, Co-Chair, Marvin's Circle
Senior Manager – Strategy and client offerings, Wealth Management Solutions
National Bank Financial
A lawyer by training, Marie-Claude Vernier focused on litigation early on in her career, specializing in civil and commercial litigation as well as professional liability, while she worked for a prominent private law firm. She also put her litigation and regulatory investigation experience to good use with the National Bank Financial. With nearly 10 years' experience in the financial industry, she recently took on the challenge of leading a 15-person team developing wealth management solutions for Wealth advisors at National Bank Financial.
She has always strongly believed in supporting young people; getting involved with the Marie-Vincent Foundation was really quite natural. Not only has she served as a school governing board member, she cofounded an organization whose mission was raising awareness about the hypersexualization of young women. That is why she wants to get involved and help vulnerable children and teenagers. Marie-Vincent's mission is essential in the areas of greatest need of our society.

Laurence Angers-Routhier, LL.B.
Lawyer at Langlois Avocats
Laurence Angers-Routhier is a lawyer in the commercial litigation group of Langlois lawyers. As part of her practice, she works on complex cases relating to issues of product liability and contract law as well as class actions in the banking sector. She further works in constitutional and administrative law matters. In this regard, she has a keen interest in issues affecting government and public affairs.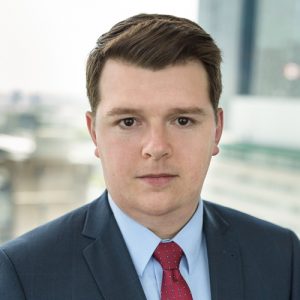 Louis-Philippe Côté, CPA, CBV
Senior Associate at Ernst & Young
Louis-Philippe is a Senior Associate at EY specializing in all facets of corporate finance, including advising companies on M&A transactions, financings and strategic advisory assignments. In addition to this specialization, he also demonstrated its versatility by successfully completing engagements in restructuring, valuation and other special projects of the firm. With the experience acquired over the years, and having obtained his CPA and CBV designations, Louis-Philippe is also regularly consulted by young entrepreneurs for strategic and financial advices.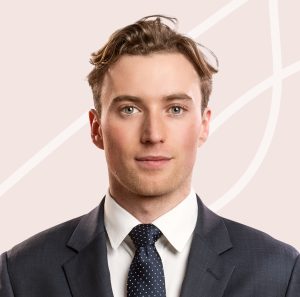 Charles-Hugo Gagné
Tax Lawyer at Lavery
In the course of his practice, Charles-Hugo plays an active part in the planning, analysis and implementation of tax structures and strategies as part of major commercial transactions, both in Canada and abroad. He is involved in mergers and acquisitions, financing efforts, purchase and sale transactions as well as corporate reorganizations, among others. He also participates in estate planning and trust creation and is called on to assist and represent clients in the resolution of disputes with tax authorities.

Étienne Guay-Côté, CPA
Financial Analyst at CAE

Étienne Guay-Côté, CPA, is a corporate finance analyst at CAE. He acts as an advisor on various investment and merger & acquisition projects. Prior to joining CAE, Étienne was a team leader in the Transactional Advisory Services group at EY, more specifically in the restructuration team.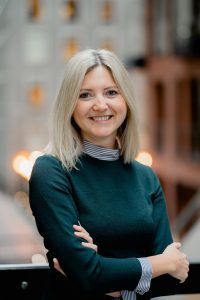 Geneviève Jutras
Communication consultant
Geneviève Jutras is a communications and public affairs professional with over 15 years of experience. After working for organizations such as the , Sun Life Financial or the Caisse de dépôt et placement du Québec, she joined the Mayor of Montreal's cabinet as Senior press secretary during Valérie Plante's first term. She is currently Director of Public Affairs at Tesla RP. Throughout her career, Geneviève has always made a point of giving back to the community; she served as an organization committee member for the CHU Sainte-Justine Foundation Urban Duathlon and as co-chair of the Grandes histoires Arts Affaires of the Brigade Arts Affaires de Montréal. She is delighted to have this opportunity to dedicate her efforts to serving the Marie-Vincent Foundation mission.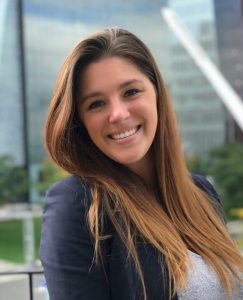 Douriam Ouellet
Division Director at Randstad Canada

Douriam worked in the Hotel and Events industry for several years before embarking on a new career path in Human Resources in 2020. She is currently a Division Director at Randstad Canada where she manages her Business development and Talent acquisition teams. Having dedicated her time and efforts to humanitarian organizations from an early age, she aspires to pursue her involvement with the Marie-Vincent Foundation to support a cause that is very close to her heart.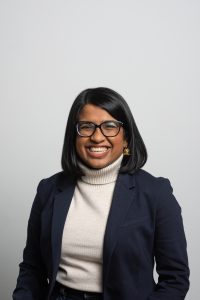 Shophika Vaithyanathasarma
Shophika Vaithyanathasarma holds a bachelor's degree in Mathematics and Sociology and is completing her master's degree in Didactics of Mathematics at Université de Montréal. A recipient of the prestigious TD Scholarship in 2018 due to the scope and quality of her community involvement, she is a strong believer in making the world a better place for future generations and considers active involvement in the community as essential. She took her first steps as a nine-year-old hosting a radio show in her native tongue, Tamil. She then got involved in the school, community and associative sectors, volunteering in her borough's CHSLD, sitting on the board of directors of a school cooperative for three years and is a member of the from 2019 to 2022. She is particularly committed to defending access to education and emphasizes the importance of civic education, even in pure science. She is currently working on creating activities for CEGEP students and teachers designed to promote a social approach to mathematics through modelling. A three-time election candidate, Shophika insists on the importance of access to mental health care for all.